Products, Technology, People
Evolution Meets Innovation
Innovation starts with a need. In the beginning, membrane bioreactors supported the need for better water reuse, land development and safer effluent discharge however these systems, which offered advantages over CAS systems, had operational challenges. FibrePlate™ was conceived and born of the need to solve these challenges. With over 20+ years of lessons learned, global operations and a drive to innovate, Fibracast, whose members pioneered the first immersed hollow fibre (iHF) membrane systems used today, have revolutionised membrane technology again with "FibrePlate", the next generation in membrane technology.
FibrePlate's innovative design provides solutions to the challenges associated with conventional UF membranes;
Membrane sludging
Debris accumulation
High OPEX costs:

High cleaning chemical costs
High aeration costs

Footprint matters
Low pathogen removal
FibrePlate Membrane
FibrePlate™ is a horizontally mounted, immersed hybrid PVDF membrane, delivering true 0.035 um ultra filtration through each and every module, consisting of (16) large individual, flexible membrane sheets, functioning and operating at new enhanced levels of performance. FibrePlate™'s performance is achieved through the fusing and integration of multiple technologies into one; hollow-fibre, flat-sheet. The net effect of this fusion, is a technology greater than the sum of its parts. Conventional membranes are built with the tools and knowledge of the past. Today, to achieve higher performance at lower costs, one has to look beyond the horizon and towards the future. FibrePlate™, the new name in Performance .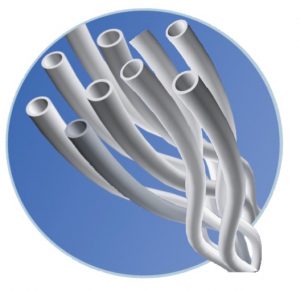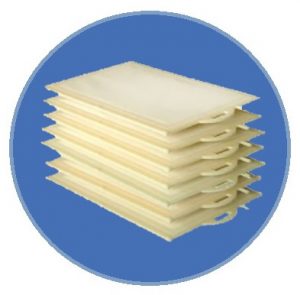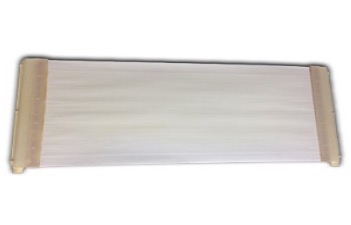 A FibrePlate module consists of (16) triple reinforced sheets, aligned horizontally, with sheet ends potted within vertical permeate collection headers. The combined surface area of the sheets deliver 500 ft2 of active filtration per module. Different from conventional UF, membrane modules are mounted horizontally and not vertically, resulting in open free-flow passages through cassettes, reducing hydraulic restrictions and eliminating debris collection/high abrasion zones common to hollow fibre. FibrePlate's innovative design ensures trouble free and simplified operations over the design life of the membrane and cassette.

Our stainless steel cassettes are single, double or 3 module stacks and house a flexible number of FibrePlate modules that adjust to the flow needs of your plant, allowing for the "Plug-&-Play" of modules within cassette assemblies. Each cassette is designed as an integrated self-supporting unit with the ability to house from 2 to (84) membrane modules. Membrane cassette configurations are flexible and allow for the use of single, double or triple stack designs, depending on applications. All required permeate and air connections are built into the cassette frame, reducing the number of connection points and potential leaks. As the cassette is self-supporting, insertion and removal of it from a train is easily accomplished.

Our Membrane trains are flexible and go with the flow. We can configure our cassettes into smaller footprints or retrofit conventional long membrane tank trains. Our unique membrane operations and flexibility in design even allows for the retrofitting of circular clarifiers. With more configuration options, customisation of trains and greater flexibility in operational control, our membrane solution offerings are almost limitless ensuring client needs are met with the best economics whether for greenfield projects or the retrofitting of any existing plant.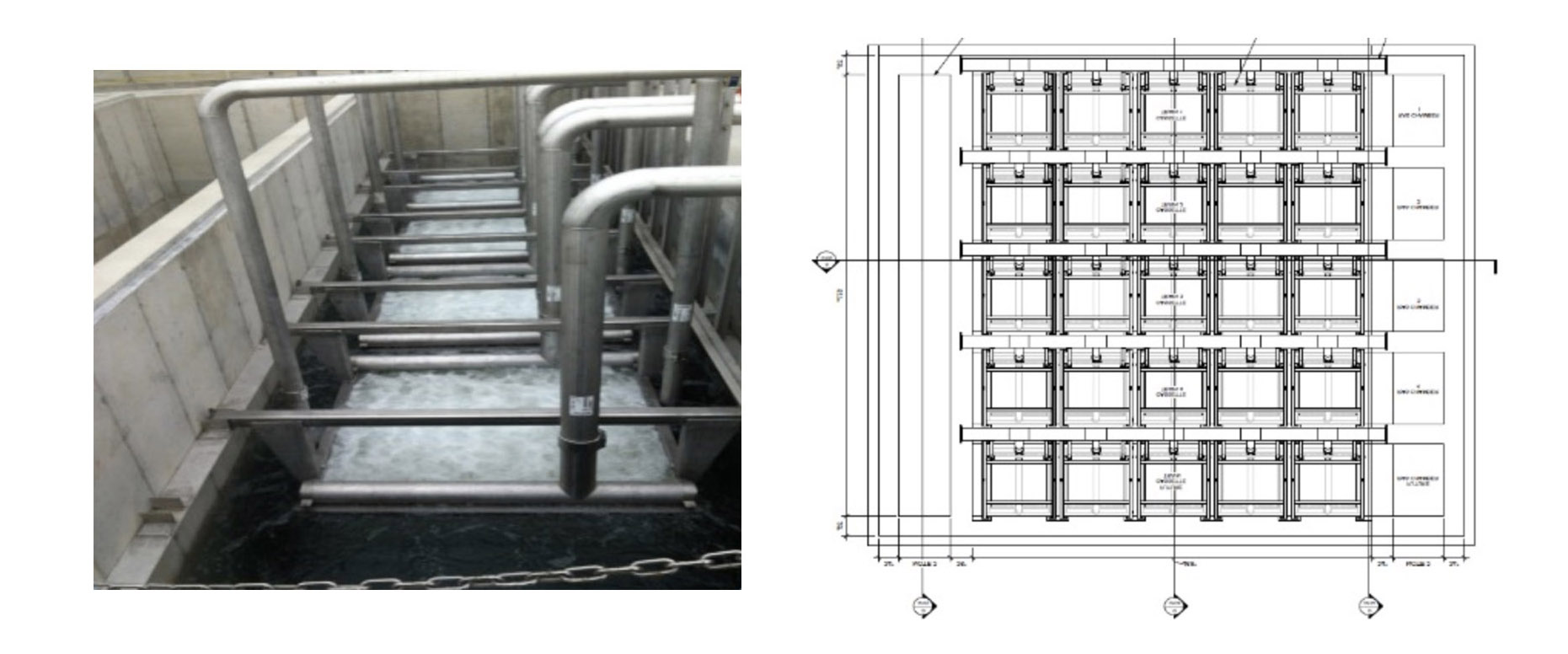 Smaller, Safer, Stronger
Some of The Benefits of FibrePlate
Unobstructed Flow Path
A primary benefit of FibrePlate horizontal configuration is that there is no top header and that the modules and cassettes have an open flow configuration with nothing to trap debris. Without restrictions or obstruction, solids go with the flow.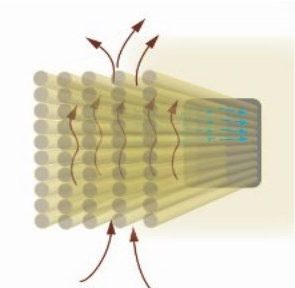 Minimized Footprint
The FibrePlate membrane configuration allows for a higher packing density which translates into smaller and optimal tank utilization than other types of immersed wastewater membranes. The combinations of increased packing density, increased hydraulic efficiency and not requiring "flow around" space between the cassettes and tank walls results in a significant footprint advantage compared to Plate-and-Frame and Hollow-Fiber membranes. Smaller footprint means lower civil work costs and lower capital costs as the membrane tanks can be made smaller or with capacity for future expansions.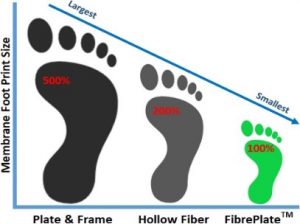 Easy Expansion
A smaller membrane footprint means that any membrane plant can increase its current flow capacity by retrofitting existing membranes with FibrePlate. Since FibrePlate cassettes are designed to easily fit with the membrane train of other manufacturers, capacity upgrading is fast and simple. Depending on the type of membranes being replaced, Fibracast can double, triple and even quadruple plant flow.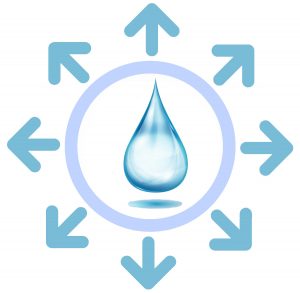 Lower Opex Costs
The FibrePlate membranes are the only membranes that use the combined effect of aeration and mixed liquor cross filtration to continuously clean the membrane surfaces. This results in an effective continuous surface cleaning which reduces the need for chemical maintenance cleans. Using the return activated sludge flow to scour the membranes can also translate into lower energy costs since the cost to pump the RAS is lower than the cost of aeration.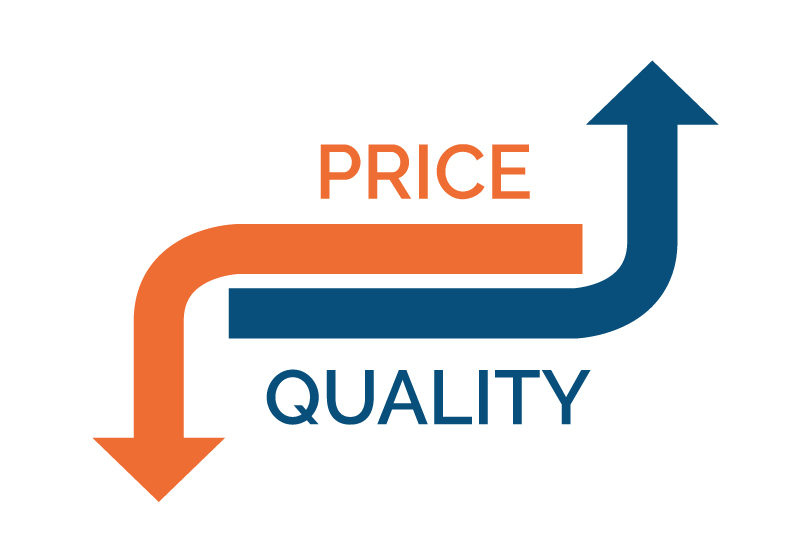 FibrePlate™ for Direct and Indirect Potable Reuse Applications
The FibrePlate membrane is a tight ultrafilter with a nominal pore size smaller than 0.04 microns. This means that our membranes do not only remove Protozoa and bacteria that are much bigger than our pores, but also a large number of viruses since many viral species are larger than our pores. This makes the FibrePlate membranes particularly efficient for water reuse applications.